Upcoming Events
Elsie and Viktor Hoffmann Memorial Soccer Tournament
Sunday, August 17, 2014 -- 12:00 p.m.
Please join us for our annual Danubia Men's Memorial Soccer Tournament honoring Elsie and Viktor Hoffmann.
Come out and spend a pleasant afternoon watching soccer games! The kitchen and bar will be open.
Tag der Donauschwaben
Sunday, August 24, 2014
We hope you'll join us for our annual festival featuring:
Soccer Games
Catholic Mass in German
German Music
Folk Dancing
German Food and Drinks
Children's Games
Come and enjoy a beautiful day of Gemütlichkeit!
Microbrewfest
Saturday, September 13, 2014
German-American Steuben Day Parade
Saturday, September 27, 2014
Please visit our
Steuben Parade
page for additional details about this event.
Founder's Luncheon
Sunday, October 26, 2014
The Board of Directors invites you to our Founder's Luncheon. This Sunday afternoon family-friendly dinner is being held so we can celebrate our successes and accomplishments. Please call 267-880-8676 for reservations.
Schlachtfest
Sunday, November 16, 2014
This is the annual dinner featuring homemade meats, sausages, soups, appetizers, and desserts. No one goes home hungry! For reservations, call 267-880-8676.
A Trachtenfest: An Evening of Ethnic German Pride and Celebration
November 29, 2014
Please join us at the United German Hungarian club for the second event of our
Living History Days 2014
celebration.
Christmas Show
Sunday, December 7, 2014
A Taste of Everyday Life
January 17, 2015
Please join us at the Trenton Donauschwaben Association for the final event of our
Living History Days 2014
celebration.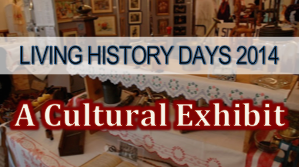 Danubia-L Mailing List
Please subscribe to our "Danubia-L" mailing list to stay informed of news and upcoming events at the club.
Danubia-L Mailing List Sign-Up
Hall Rental
Are you interested in renting the hall at the club? If so, visit our
Hall Rental / Catering
page for more information.