Donauschwaben Museum
This story was contributed by George Brenner in July 2016 and was published in the summer 2016 issue of the club's newsletter. It is reproduced here in its entirety.
Donauschwaben Museum in Frankental / Pfalz, Germany
Approximately 10 years ago, I learned that a wagon made by my grandfather, Josef Jung, in 1939 existed in a museum somewhere in Germany. All that I had was a picture and a short write-up about some of its history, but I had no idea where it was located. Over those years I made several attempts to locate its whereabouts, but was unsuccessful. Last fall, myself and some of my cousins visited my mother's cousin in Chicago, and there was a different picture of the wagon hanging on the wall in her home than the one I had. That picture had a relative in Germany that I had only met once 30+ years ago standing next to the wagon. I contacted her and learned that the wagon was located at a museum housed at a Donauschwaben club located in Frankental / Pfalz, Germany.
In June 2016, my wife Joann and I, along with some friends, had the opportunity to visit the Donau Deutsch Landmannschaft Museum to see the wagon made by my grandfather in Kula/Batschka, Jugoslavia 77 years ago.
When our parents, grandparents, and great grandparents came to this country, it seemed like they all had a trade or a skill that they learned in the "Old Country." My grandfather was a Wagnermeister (Master Wagon Maker). His brother, Johann Jung, was a Schmiedmeister (Master Blacksmith), and their neighbor, Josef Kraus, was a Lackiermeister (Master Painter). These three Handwerksmeisters (masters of their trade) built wagons in Kula/Batschka. In the spring of 1939, these Master Craftsmen built a magnificent wagon, and in a 1982 interview, its owner, Franz Mutsch, said that driving the wagon in 1939 he felt like a younger man feels when he drives a Mercedes for the first time.
The wagon was part of the "Flucht" (exodus) from Kula to Germany in 1944-1945. There is no information about its initial journey from Kula to Schlesien in Germany. We do know that from Schlesien it traveled to Sandersdorf in Bayern, then five years later to Esenhausen in Baden-Wurttemberg where it was kept in a garage as a memory of their homeland in Kula. In 1982, the wagon was donated to the Donauschwaben Museum in Frankental / Pfalz.
The museum is located on the third floor of the club, which is home to several hundred members, three dance groups, and multiple soccer clubs. In addition to the wagon, the museum holds many other items that were brought to Germany by the fleeing Donauschwaben. They have quite a collection of Trachten and men's clothes. They also have meat grinders and "Wurstspritz" (sausage makers) as well as hemp breakers, hemp combs, and spinning wheels. A "Weinhaver," which is something used to extract wine from a barrel as well as a large variety of kitchen utensils and tools from the "Werkstadt," are also featured at the museum. We were guided on our visit by Herr Adam Lulay who is from Banat/Romania and is very knowledgeable about the many items on display. He even demonstrated how clothes were washed on the washing machine from the "Old Country."
I am thankful that a piece of my grandfather's legacy from a time long ago still exists today. I like to think that he and Josef Kraus would be proud to know that not only their children but grandchildren, great-grandchildren, and great-great-grandchildren have continued to support their heritage through being members of the Philadelphia Donauschwaben.
The next time you are in Germany, I would highly recommend that you explore some of my grandfather's history and the rest the Donauschwaben's history through a visit to the Donau Deutsch Landmannschaft Museum.
Photos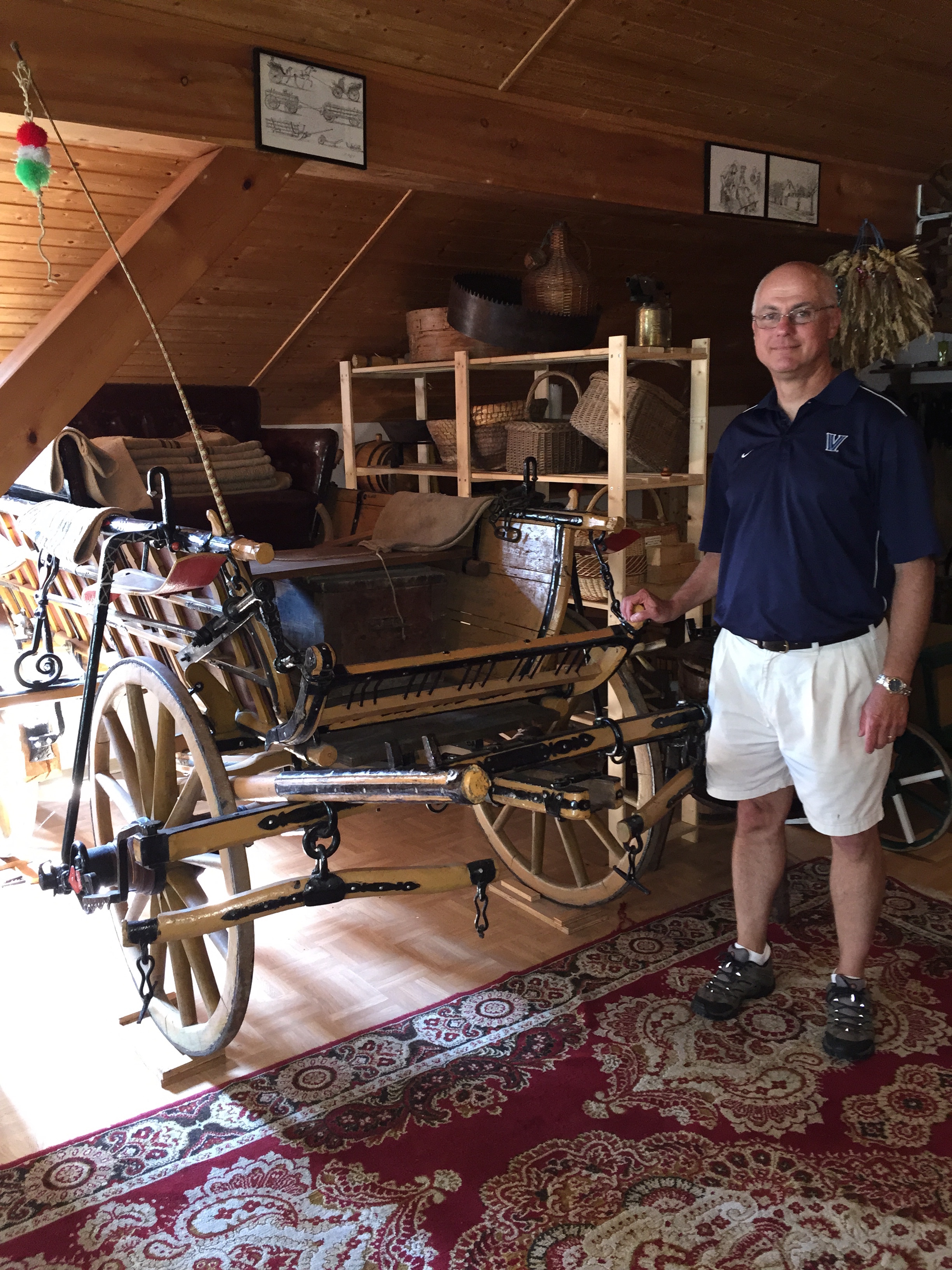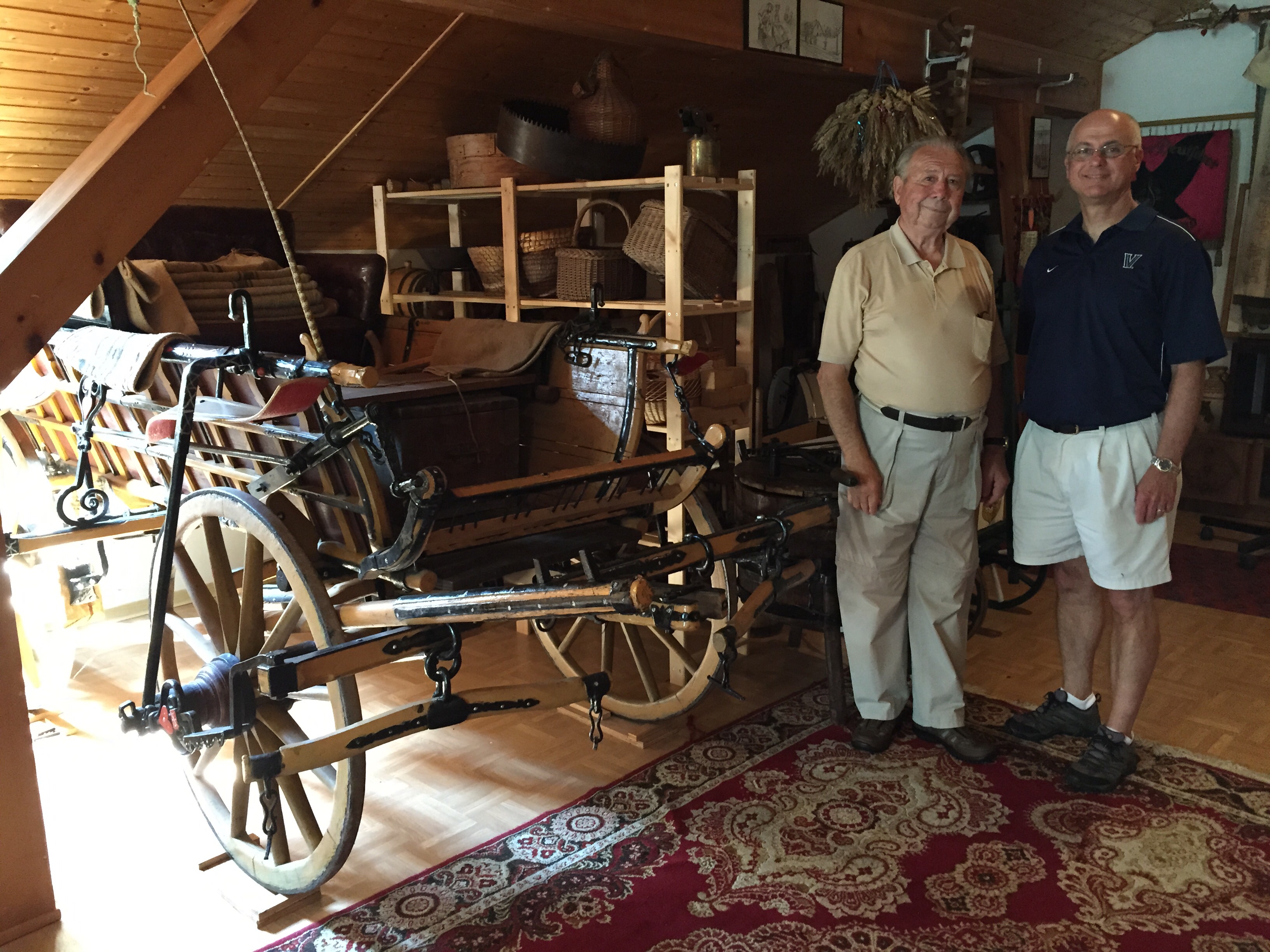 Videos